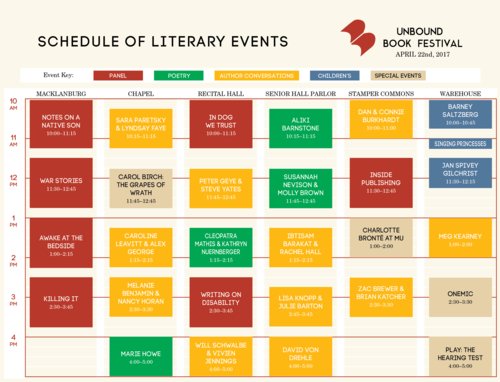 COLUMBIA, Mo 4/19/17 (Beat Byte) --
Last year around this time, I was
literally thanking God for Alex George
.
In a world awash with violent video games and insta-flix, the Columbia-based novelist dared step out with something novel these days:  a festival of books, authors, reading and all things written word he aptly calls
Unbound
. 
Mr. George is back this year, with a new novel -- 
Setting Free the Kites
-- and
Unbound II
, a day-long event that begins this Friday as
An Evening with Sir Salman Rushdie
, the closest thing civilization has to a patron saint of free speech. 
The good ol' boys of Iranian politics -- every political system has good ol' boys -- threatened Rushdie with
execution, aka "fatwa", over his book The Satanic Verses
, which they found offensive.  
But Rushdie has both resisted and lived, winning a host of important literary awards like the Booker Prize and British Knighthood.   Mr. George and Unbound are offering Sir Salman's insights free of charge, and as expected, the Friday evening conversation sold out.
The entire day Saturday brings loads more, however -- all free to attend, with gracious sponsors providing venues, funding, and dozens of authors and literary lights. 
Unbound is basically a three-part fest:  Events, Book Signings, and an all-day "Independent Author Fair."    
In different venues around the Stephens College campus, the event schedule includes panels, author conversations, poetry, childrens' books, and four "special events" at different times of the day. 
Poetry readings are scattered throughout the schedule, and include work by
Aliki Barnstone, Missouri's Poet Laureate
. 
Panels kick off with Mizzou English professor Alexandra Socarides hosting "Awake at the Bedside," about people who have written of their experiences providing care to the dying, a difficult subject that promises a wealth of insights.    
The "Killing It" panel features "five of the most talented and exciting women crime writers working today," including local authors
Laura McHugh
and
Jill Orr
; and
Sara Paretsky
, creator of famed fictional
private investigator V.I. Warshawski,
whom
Kathleen Turner
brought to the big screen.  
Other panels include:  
War Stories 
Four acclaimed writers – a memoirist, a military historian, a biographer, and a novelist – discuss writing about war.  
Inside Publishing
Experienced publishing pros discuss the ins and outs of the notoriously fickle publishing industry.
In Dog We Trust       
The challenges and rewards of writing about dogs across a variety of genres. 
Writing on Disability       
A discussion with four dynamic, prize-winning authors about writing on disability (developmental, neurological, anatomical, auditory) into novels, poetry, plays, and essays.
Notes on a Native Son:   James Baldwin in 2017   
A discussion of the African American literary and intellectual icon, whose acerbic, dead-on commentary about African Americans is more relevant than ever.  
Lyndsay Faye and Sara Paretsky  
One of the most successful crime writers of all time and one of the genre's up-and-coming stars discuss their craft.
Peter Geye and Steve Yates      
Geye (Wintering) and Yates (The Legend of the Albino Farm) discuss – among many other things – the importance of place in their work.
Ibtisam Barakat and Rachel Hall   
Two authors discuss immigrants and immigration in their work.
Alex George and Caroline Leavitt    
Nostalgia, impetuous youth, and heartbreak as themes in recent literature, including their own.
Zac Brewer and Brian Katcher  
Young adult (YA) fiction,  one of the most popular and exciting areas of publishing.
Melanie Benjamin and Nancy Horan   
Biographical fiction, and the complex balancing act of creating bestselling fiction out of real lives.
Julie Barton and Lisa Knopp      
Two memoirists discuss writing honestly and openly about mental health and other personal matters.
Will Schwalbe and Vivien Jennings   
The joys of reading:  advice, reading recommendations, and a celebration of the glories of losing yourself in a wonderful book.