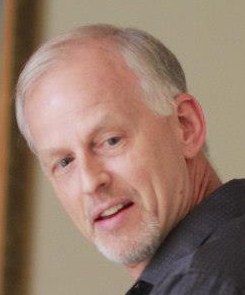 An "artrepreneur" of theatre and stage
COLUMBIA, Mo 3/2/14 (Beat Byte) --
For years, he was known in public school parlance as "Mr. Hanson", director of choirs at Calvary Episcopal Church and
Columbia Public Schools music teacher
who demanded excellence, the first mentor for dozens of future artists and performers.
Now, six years after "retiring" (quotations deliberate), 
Ed Hanson
is the
first performing artist
to be named Heart Beat Artist of the Month.  
Hanson launched his second career as a professional actor in 2008, but has become one of Columbia's best-known
"artrepreneurs" -- an artist-entrepreneur
. 
Masters of promotion, sales, marketing, negotiation, and attention to the bottom line, artrepreneurs like Hanson -- and his thriving theatrical company,
Talking Horse Productions
-- have helped turn Columbia into a bustling and profitable artistic community.  
A Mizzou education alum, Hanson has lived in Columbia for nearly forty years, working in professional theatre both here and around the country.   
He has been an artrepreneur as long as many people can remember.   Back in the 1980s, he managed
Maplewood Barn
, Columbia's famous outdoor theatre, handling everything from publicity and scheduling to advertising and grant writing. 
His
organizational skills
helped make Hanson a music educator with an astonishing track record among a notoriously fickle group:  youngsters trying to balance the need to practice with the urge to play.  
His style -- high expectations balanced with  gentle humor -- coaxed the best performances out of his young singers and musicians, and kept attrition low. 
In the years my daughter  studied at his side, she never wanted to drop out, never wanted to stop practicing.   Instead, she
wanted to bring her A Game to meet Mr. Hanson's challenges
. 
Innovative in its intimacy
, Hanson's latest endeavor -- the new Talking Horse Theatre -- seats 60-70 people with front rows just inches from the stage.   Originally at the Berlin Theatre, Talking Horse Productions now calls  210 Saint James Street home.    
My family and I have seen several Talking Horse productions, some showcasing all of Ed Hanson's talents -- acting, singing, producing, and promoting.  
One of my favorites, A Man of No Importance
, starred Ed as Alfie Byrne, a fellow who discovered, through perseverance and dedication, life's Second Act. 
Thankfully, Ed Hanson has staged his second act in Columbia, making our town a better, richer -- and more artistic place to call home. 
-- Mike Martin for the Columbia Heart Beat
If ever a Columbia educator has combined the magic of music with the wonder of childhood, that educator would be CPS elementary school teacher Ed Hanson.

Wrapping another year of Honors Choir and music direction at Calvary Episcopal Church, Hanson pulls off an unusual and difficult feat: combining an imperious sense of expectation with a gentle sense of humor that coaxes the best performances out of his young singers and musicians.
The result: an astonishing track record among a notoriously fickle group: young children in the throes of music education, trying to balance the need to practice with the urge to play. Hanson's style keeps attrition low: in the years my own daughter has studied and understudied at his side, I can't recall a time she wanted to drop out and I can't recall any other children who have dropped out, either.
Planning the April 17 Honors Choir finale and an April 26 choir trip to Worlds of Fun, Hanson recently announced what we've all known for some time: that he is embarking on a new dream.
"I am retiring this year after 28 years of teaching," Ed told his young charges and their parents in a recent email. "My career has been a long and satisfying one, and I now look forward to my next career — as an actor."
To St. Genevieve this summer for a professional production of Cabaret and then to Abilene, Kansas for Thornton Wilder's Our Town.
Thanking everyone, Ed Hanson took a graceful final bow. "I am excited about these two first opportunities to 'get my feet wet' in the world of professional theater," he wrote. "I'm hoping it will be the beginning of a new and exciting career!"
For Ed Hanson, the show must go on.
- See more at: http://mymissourian.com/2008/04/07/curtain-call-for-the-childrens-maestro/#sthash.MMlFwVsN.dpuf